Sheri Hoyte – Reader Views: In "Eternally Artemisia," Melissa Muldoon delivers a whirlwind story of everlasting soulful connections, taking readers from biblical times to the 26th century. Her story will delight fans of time travel, history, art, historical fiction, romance, and intrigue. For full review click here.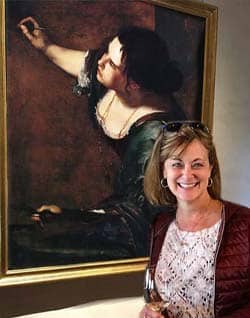 A true Renaissance woman, Melissa Muldoon weaves her passions for art and Italy into a stirring saga that sweeps across centuries.
Eternally Artemesia is a beautiful tale of romance and strength weaved from the past, present, and future.
Melissa Muldoon does a phenomenal job blending fiction, romance, art history, and the Italian language into this gem. For fans of historical fiction, romance, and time travel, I strongly recommend this novel.

Visit Amazon to
read reader reviews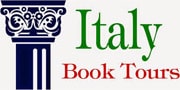 Visit Laura Fabiani's
Italy Book Tour Page to
read tour reviews
Read what people are saying about
Eternally Artemisia
A true Renaissance woman, Melissa Muldoon weaves her passions for art and Italy into a stirring saga that sweeps across centuries. As her time-traveling heroine Maddie reconnects with kindred souls, we meet Artemisia Gentileschi, the 17th-century artist who overcame rape and ignominy to gain respect and acclaim. Historic figures such as Galileo and Mussolini also come to life in this intricately plotted novel, but the women who defy all constraints to take control of their destinies are the ones who prove to be eternally fascinating. – Dianne Hales
It is hard to put into words how incredible this story is. I loved every moment of this well laid out and written novel. The story centers around two incredibly brave and strong women, Maddie and Artemisia. Maddie is an art therapist who is drawn to Italy by voices that tie her to its artistic and at times violent past. Artemisia is a female painter who was a strong woman that stood up for female rights at a great cost. She was raped, faced a trial against her accused where she was tortured and then faced being an outcast because she was no longer pure. Both women found release and freedom in the arts (which I love since I also love the arts!) where they forced others to come face to face with the way women were treated. I loved the idea of time travel and how Maddie was tied to women from the past and her love, Matteo, that she finds each century. I also loved the focus of how strong these women were. They faced great trials and humiliation but through it all they remained strong and defiant. They showed that society could try to beat them down but they would not remain down. This is such an important, positive message for young women today. We are not our past and we should never let it define us. This novel is a definite must-read, you will not want to put it down. – Working Mommy Journal
This book read like a love letter to all of European History, it mixed mediums and blurred lines between Catholic biblical principles and events in history that were chronicled in time. Once I got into the groove of things and really started diving into the story, I found myself reacting to things and almost felt like I was in the story with Maddie and seeing events through her eyes – it was a completely magical experience reading this book and I can't wait to read whatever Melissa Muldoon has next. – Found in Words
This is the third book by Melissa Muldoon and I can say that although I enjoyed her first two novels immensely, this one truly showed how far Muldoon has come as a writer. This book is her best one yet! The story grabbed my attention from the beginning and it kept me in suspense until the last page. — Laura Fabiani
The authors ability to weave her descriptive voice and historical magical realism to create an intriguing novel. Wonderful character development engaging narrative and dialogue. Ms Muldoon, captures the strength struggles of women in multiple eras, to create a passionate and beautiful written novel. The book was a nonstop read for me and what I really enjoyed was the female bonds the author creates through extraordinary folding parallel timeframes. – Gwendalyn Books
The writing and the story was such an absolute delight to read. The writer has beautifully woven an intricate tale with multiple tones which perfectly captures the strength and determination of women who thrive brilliantly in testing times. Sadly, the book has been very aptly titled as "Eternally Artemesia" for all the trials that she faced, the rape, the abuse, the gross injustice, seems to be meted out to women of today's times as well. It literally feels like an "eternity" of problems for women. With a perfect blend of history, art, romance and a bit of gore, the book was an absolute delight to read. A l'Ouest Blog
What a lovely story! Melissa weaves the lives of 4 women across time, all with some connection to Artemisia Gentileschi, a 16th century Italy painter. They represent the feminine strength that arises from life challenges, each with their unique intelligence. Underlying their stories is the idea that love transcends all, even time, love is timeless. As with her other books, Melissa fills the story out with interesting facts and references to the Italian life, culture and it's history, her attention to detail is immaculate. I loved all of the many connections in this story that tied it all together, very cleverly done. Wonderful read, I would highly recommend it. – Amazon Reader
Eternally Artemesia is a beautiful tale of romance and strength weaved from the past, present, and future. Maddie, an art therapist, goes to Italy to lead a retreat for women who have been sexually abused. While there, she finds herself wrapped up in Artemesia Gentileschi's life, a talented female painter who encapsulated female strength and used her own misfortunes to paint elegant yet graphic images which are now praised for their ingenuity. Melissa Muldoon does a phenomenal job blending fiction, romance, art history, and the Italian language into this gem. For fans of historical fiction, romance, and time travel, I strongly recommend this novel. – Amazon Reader
While this tale hits upon tough themes and how women have turned from tragedy to a better future, it's a beautiful weave of time, art, hope and determination. – Amazon Reader
Would I recommend Eternally Artemisia by Melissa Muldoon? Eternally Artemisia was another wonderfully written novel by Melissa Muldoon. The characters are strong and beautifully developed and connected across time in a way that flows well through the mystery and plot twists. This novel is a must read for historical fiction fans who enjoy an imaginative adventure as they explore new lands and past times. – Amazon Reader
Eternally Artemisia was such an interesting mix of history, family, romance, friendship, and mystery. Reading Maddie's story as she picks up and moves her life to Italy is simply inspiring. As Maddie experienced all of the feelings of excitement and nervousness over her new life, the author did such an amazing job of leading us along in Maddie's discoveries. I found myself wishing I could meet the women in her retreat group and join in on their exploration of learning more about themselves through art and friendships. – Amazon Reader