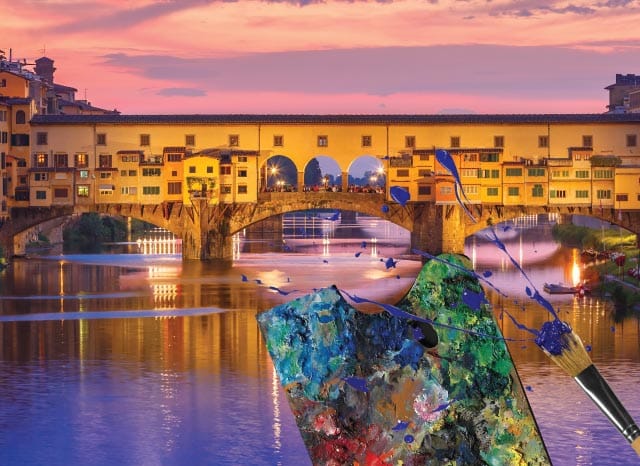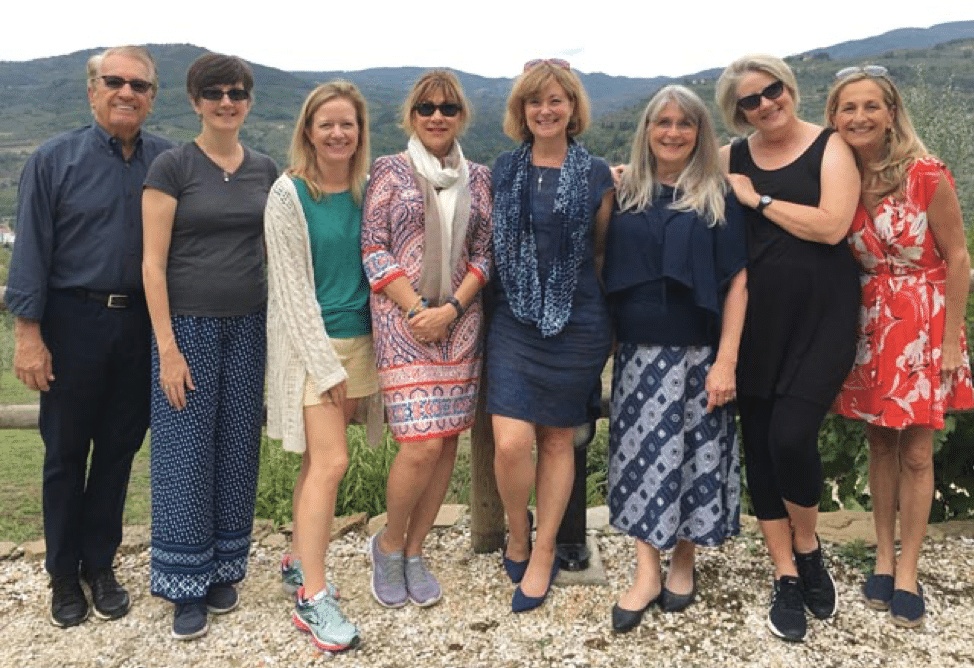 Together with a group of 8 Dreaming Sophia readers
in September 2017 for 4 days & 4 nights
we followed Sophia's footsteps and
discovered Florence through the eyes of an artist!
Melissa and two local Florentines — Giulia Bucciarelli (Florentine artist) and Benedetta Bronzino (Italian teacher & Florentine Tour Guide) teamed up to guide a group of Dreaming Sophia readers through historic Florence for four days and four nights.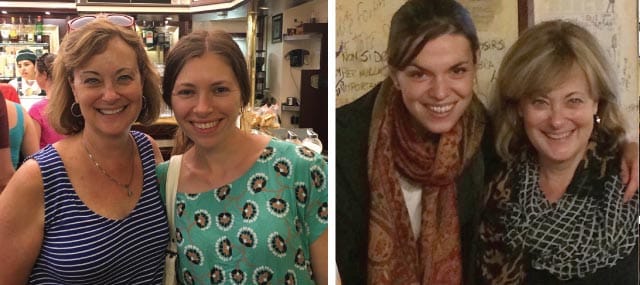 During the 4 day and 4 night program we learned about Florentine art & artists, and visited artisan shops in the Oltrarno. We had guided tours of the Academia, the Uffizi and the Duomo Museo. We also explored the Pitti Palace, home of Eleonora de' Medici and the magnificent Boboli Gardens where Giulia will gave us a watercolor painting lesson. We learned about Renaissance history and the Medici family, visited the chapels in San Lorenzo and the Medici Palace. We will also sampled authentic local foods and wine during a special Florentine food crawl.
We concluded our program in the countryside in Chianti for a full day of wine tasting and lunch at an Osteria where we enjoyed the Vendemmia — the grape harvest.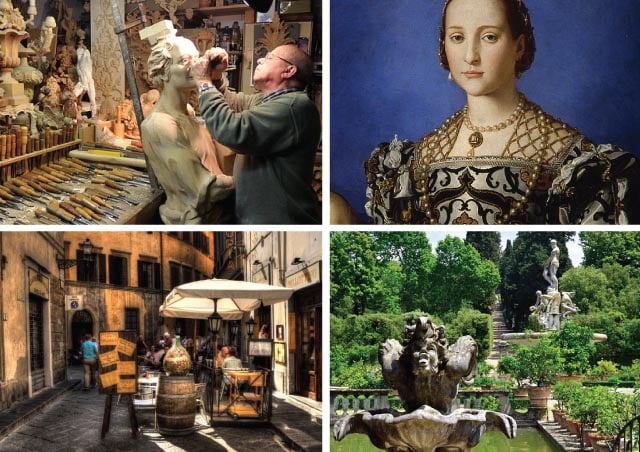 During our four days and four nights in Florence, we stayed at a charming Bed and Breakfast near the Academia at Residenza Johanna, and the Antica Dimora.
Day 1 – Wednesday, September 13 – Benvenuti! Welcome to Florence• Check-in Morning (arrangements can be made for check in a day early — but let us know soon)
• Afternoon walking tour with Melissa & Giulia a local Florentine artist
• Visit to San Lorenzo & Medici Palace
• Evening welcome dinner finishing with gelato! Did you know gelato was invented during the Renaissance?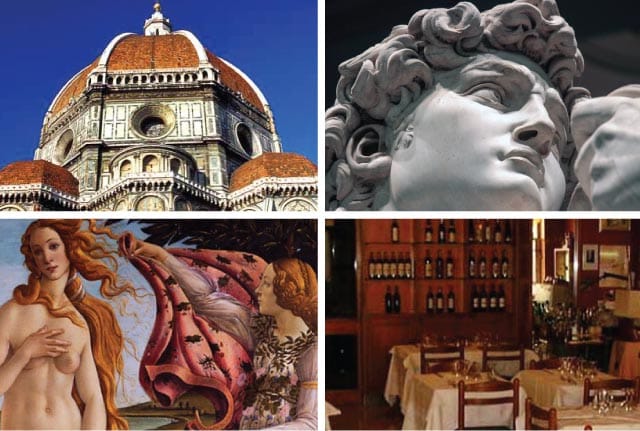 Day 2 – Thursday, September 14
• Guided tours with Benedetta Bronzino, resident of Florence and professional tour guide
– We will visit Duomo Museo were we will meet "meet" Brunelleschi and learn about how Florence's famous cathedral Dome was constructed
– We will visit the Academia where we will "meet" Michelangelo's David
– Lunch in Florence at All'Antico Vinaio near the Uffizi (out of pocket expense)
– We will visit the Uffizi Galleries where we will rub elbows with Giotto, Botticelli, Leonardo, Caravaggio AND Bronzino who painted the portrait of Eleonora de' Medici.
— Dinner with wine will be provided at a local Florentine trattoria Cafaggi
Day 3 – Friday, September 15
• Guided tours with Benedetta Bronzino– We will visit the Pitti Palace and Boboli Gardens and spend several hours walking through the open air museum, enjoying landscapes and works of art and architecture— There will be an opportunity to have an outdoor watercolor painting lesson with Giulia. Art supplies will be supplied
— Lunch in Florence (out of pocket expense)
— Afternoon walking tour in the Oltrano to discover the bohemian side of Florence with its workshops, cafes, art galleries, canteens, and picturesque narrow streets. We will meet artists and artisans at their workplace.
— Sunset wine-tasting experience
—Dinner with wine will be provided at a local Florentine trattoria Pallottino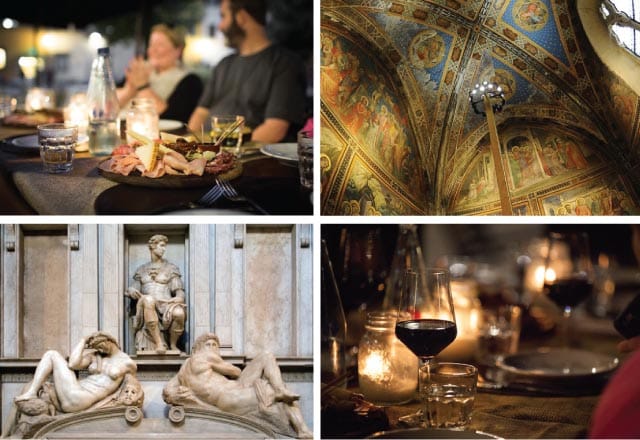 Day 4 – Saturday, September 16
• All day trip to Chianti in the countryside – it's time for the Vendemmia!– In a private van, we will visit the most beautiful spots of the Florentine countryside. Duration: whole day tour. The tour includes: visit to a wine cellars in Chianti with wine tastings
— Lunch in Chianti included at Osteria Fuori Porta (as this will be an all day eating and drinking excursion, dinner not included)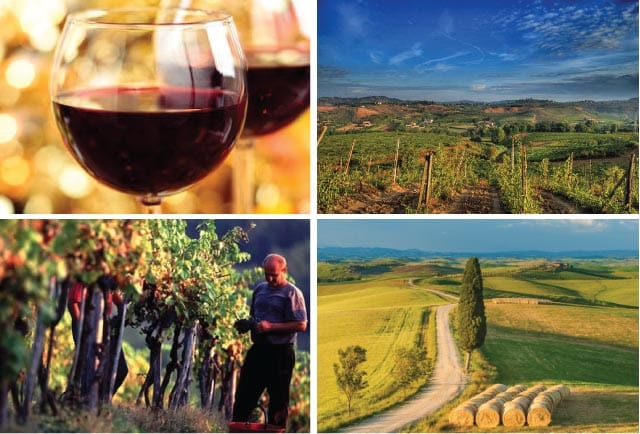 Day 5 – Sunday, September 17• Baci & Abbracci! It's time to say goodbye. Morning guest checkout