The Secret Life of Sofonisba Anguissola
The most famous woman you've never heard of
by Melissa Muldoon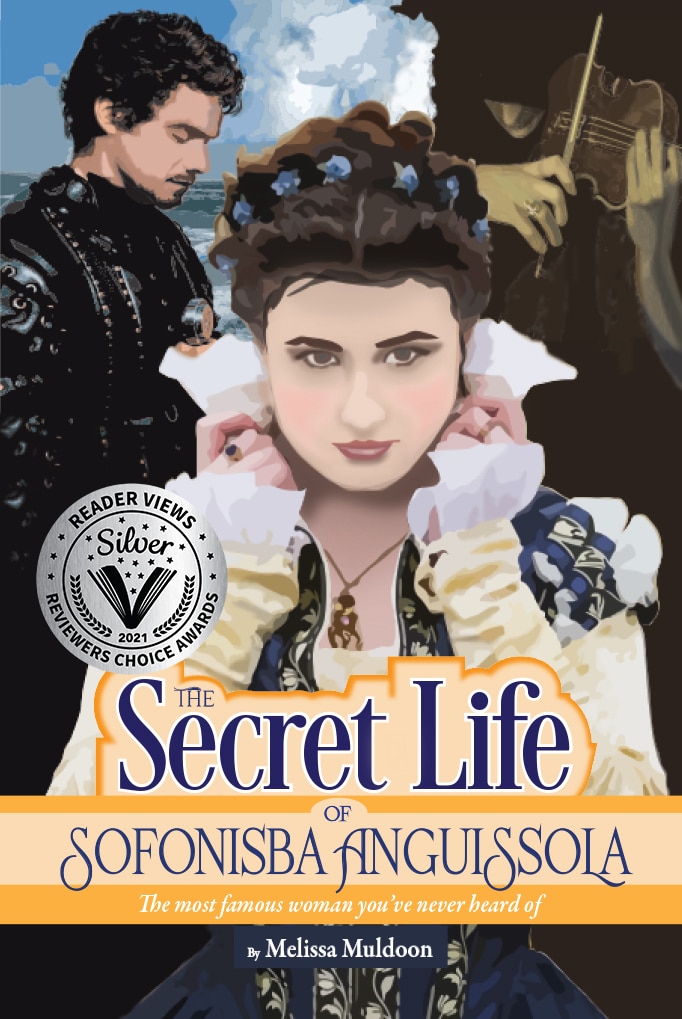 ---
---
Set in the sixteenth-century "The Secret Life of Sofonisba Anguissola" tells the love story of a woman's passion for art… and for a man. In a world where women painters had little to no acknowledgment, she was singled out by Michelangelo and Vasari, who recognized and praised her talent. Gaining the Milanese elite's acclaim, she went on to become Court painter to the Spanish King Phillip II, and teach his Queen to paint. One can't live such an extraordinary life without having stories to tell… and tell them Sofonisba does to Sir Anthony Van Dyke, who comes to visit her toward the end of her life. During their meeting, she agrees to reveal her secrets but first challenges the younger painter to find the one lie hidden in her tale. In a saga filled with intrigue, jealousy, buried treasure, unrequited love, espionage, and murder, Sofonisba's story is played out against the backdrop of Italy, Spain, and Sicily. Throughout her life, she encounters talented artists, authoritative dukes, mad princes, religious kings, spying queens, vivacious viscounts, and dashing sea captains—even a Barbary pirate. But of all the people who fell in love with Sofonisba, only one captured her heart. The painter may have many secrets… but the truth of her life is crystal clear from the beginning: always a strong, passionate woman with a dream—she was an intelligent artist who knew her own self-worth, and in the end, as Michelangelo had done for her, Sofonisba passed her brush to a new generation.
Dianne Hales, the author of La Bella Lingua: "Through meticulous research, Melissa Muldoon spins a captivating tale of a Renaissance woman. Sofonisba defied the conventions of her time to follow her heart and make her living by her brush."
Kate Braithwaite, the author of Charlatan, The Road to Newgate: "This is a novel rich in description, romance, and adventure that combines detailed research with excellent characterization. Put simply, it's everything a historical novel should be."
Sheri Hoyte for Reader Views: "The Secret Life of Sofonisba Anguissola" is the latest novel from Melissa Muldoon in her distinguished collection of works featuring prominent female artists from Italian history. The opening quote, "Life is full of surprises. I try to capture these precious moments with wide eyes," by the artist herself, sets the tone for what promises to be an unbridled adventure full of passion, love, royal court politics, obsession, murder and of course, the art world in the sixteenth century and beyond.
Sofonisba Anguissola was a woman who dared to dream far beyond the limitations set for women during her era – truly a woman before her time. Her story demonstrates the power behind the sentiment, "anything is possible," and her achievements helped pave the way for generations of women to come. That Sofonisba is "the most famous woman you've never heard of" as indicated in the subtitle, is representative of the way she left her mark on the world – humbly, through hard work, humility, resilience, integrity, and respect. Through Melissa Muldoon's exquisite rendition the world can see – 500 years later, that Sofonisba Anguissola was a true heroine and role model for all women on the road to equality.
Melissa Muldoon is known for her portrayal of strong women overcoming the odds to fulfill their dreams, and it is one of the many reasons I find her stories so delightful. The author continues to inspire women through her work with her messages of believing in yourself and staying true to your convictions. "The Secret Life of Sofonisba Anguissola" is her best work yet.
"The Secret Life of Sofonisba Anguissola" is a bit of a departure from Muldoon's traditional time-travel-style adventures, and I was completely captivated by her approach. In this book, Sofonisba relates the story of her colorful life to Sir Anthony Van Dyke, a Baroque artist who became the leading court painter in England. One of my favorite story-telling devices is when a character tells his story to another character. This tenders intimate connections with the characters and Muldoon makes it easy to imagine being in the same room as the two artists engage in a lively afternoon conversation over tea.
Sofonisba's life is as fascinating as her character and clearly Muldoon has done her homework in terms of research. A genuine 16th century ambiance permeates the pages as Muldoon takes us on a virtual tour through the settings of King Phillip's court in Spain, Sofonisba's hometown of Cremona, Italy, and the island of Sicily. Also, as is representative of Muldoon's previous works, she infuses her own passion for art, history and Italy into this story and it's evident though the outstanding delivery of such an intricate and engrossing tale.
Spectacular writing, intriguing art and history, inspirational characters, societal issues still relevant today – these things all combine to create a story of excellence. I was completely enthralled with Sofonisba Anguissola – my only regret was reaching the end of this story. I highly recommend "The "Secret Life of Sofonisba Anguissola: The most famous woman you've never heard of" by Melissa Muldoon. It's a story of vision, strength, and determination that history and art enthusiasts, along with romance and intrigue fans will enjoy."
---