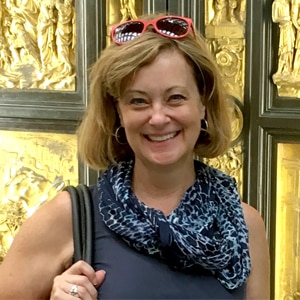 Ciao! I'm Melissa – author, artist, art historian, videographer, podcaster, and Italian language blogger — who fell in love with Italy while studying painting and art history in Florence when I was only eighteen!
For years, I worked professionally as a graphic designer and it is only recently that I developed a passion for linguistics and writing. Feeling the call of Italy, but not able to travel there due to family and work restrictions, I began writing the Studentessa Matta Italian website to improve my language skills and to connect with other language learners. Over the past couple of years, the "Matta" concept has grown to include the Matta YouTube channel and podcast Tutti Matti per l'Italiano. I also coordinate Matta Italian Language Immersion Tours, which I co-lead with Italian partners in Italy. 

And now, based on my love of art and Italy, I've written four novels set in Italy, including one that I've translated into Italian! They are: Dreaming Sophia, Waking Isabella, Eternally Artemisia, and The Secret Life of Sofonisba Anguissola (coming December 2020). I have also translated my second novel, "Waking Isabella," into Italian — Il risveglio di Isabella.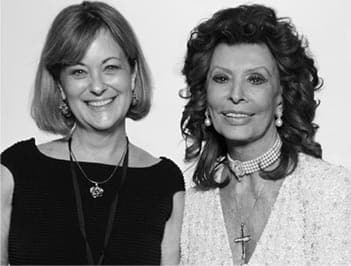 Initially, I chose the name "Matta" for my Italian blog name because, in Italian, it means "crazy or impassioned." I believe if you let yourself go a little, lasciare andare (let go as they say in Italian) — whether it be learning a language or picking up a pen to write — you are less inhibited and will try and do things you never thought possible. For me, I feel empowered to let go and express whatever comes to mind when I sit down to write in Italian. Quindi…come una scatola di cioccolatini — like a box of chocolates —you never know what you will get. It could be a language learning tip, a post about a pop singer, a quirky cultural anecdote…or perhaps the story of how I met Sophia Loren!
The Matta Italian blog taught me so many things, but mostly I realized how much I enjoyed the writing process. And writing novels has made me realize how much I enjoy weaving together fictional plots, creating new worlds, and inventing people to populate them based on the things I know best — Italian culture, language, art, and history.
I would never have imagined when I first stepped foot on Italian soil to study art and art history in Florence how it would change me so thoroughly, opening me up personally and leading to a writing career. But, by embracing this fantastic Italian concept of "lasciare andare," I relaxed and didn't fight it. I gave in to something for the joy of it, and now it continues to sweep me away and take me places I never thought I'd go!
I hope, dear readers, you too will join me on my journey and lasciar andare — let yourselves go and come away with me on an armchair trip to Italy. If you do, you will get a glimpse of all the innumerable things – the sights, sounds, tastes, the art, as well as the legends and anecdotes — that make Italy unique to me! Buona lettura! Happy reading!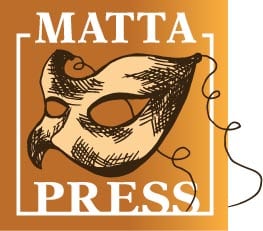 Melissa is the managing director of Matta Press,
an Independent Publishing Company
2303 Ranch Road 620 S.
Suite 160-124
Lakeway, Texas 78734
510-353-9200