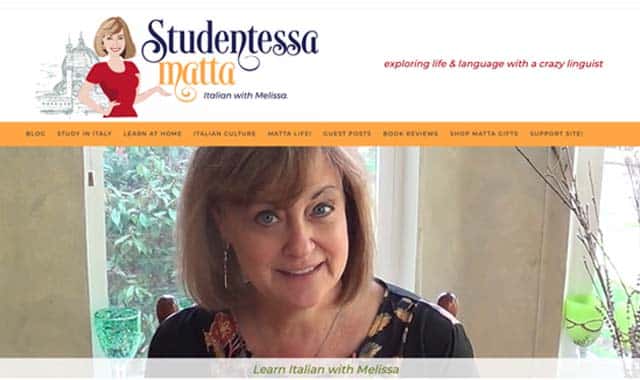 Initially, Melissa began the Studentessa Matta Dual language blog as a way to improve her command of the language and to connect with other language learners. As a student, she lived in Florence with an Italian family. She studied art history and painting and took a beginner, Italian classes. But, when she returned home, she threw away her Italian dictionary, assuming I'd never need it again. Living in Florence, however, was indeed a life-changing event! Wanting to reconnect with Italy, Melissa decided to start learning the language again from scratch. As if indeed possessed by an Italian muse, she bought a new Italian dictionary and began my journey to fluency—a path that has led her back to Italy many times and enriched her life in countless ways.
---

Art history has always been a favorite subject of mine. In fact, I have a Master's degree in the subject. I believe that art is not dry or boring, but rather a wonderful way of exploring the world and discovering new truths about it.
When I look at the world around me I see art everywhere — beauty is all around us. I want people to see this too, and realize that is accessible to everyone. It is a personal thing, and no one can dictate what beauty means for another. In all three of my novels, it is my intent I introduce the reader to all kinds of art history topics, and artists — contemporary and modern — as well as old masters.
My objective is to open up people's eyes to
the world of art and let art to "speak" to you,
as it does to me and the protagonists of my novels.
Now, in my website "The Art of Loving Italy"
and it's companion Pinterest page you
can explore the world of art with me!
---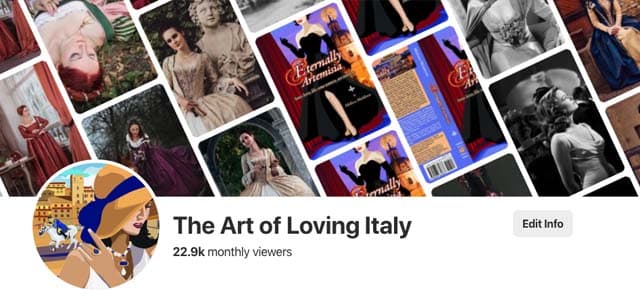 The Art of Loving Italy Pinterest site came into being after I published my first novel Dreaming Sophia, a book that takes place in Italy, and focuses on the art of Italy, and it colorful pageant of artists, musicians, and actors. It was developed to supplement my novel so that I could familiarize readers visually with the paintings, and music that I talk about in my book. Since publishing Dreaming Sophia I have written two additional novels — Waking Isabella (also translated into Italian as Il risveglio di Isabella) and Eternally Artemisia. All three books, celebrate art and creativity and the cities, personalities, art and cultural images of Italy are also captured visually on The Art of Loving Italy Pinterest site.